Products tagged with Australische exoten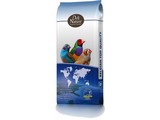 Deli Nature 84 APV Gould, this deli-Nature exotic blend is a special blend for the Australian finches, such as the Gouldian finch and the zebra. Note the percentage of Japanese millet, which originates from Australia, and perilla brown.
€25,65
This mixture has been enriched with small, wild seeds to keep these birds in tip-top condition and to provide them with sufficient variety. With 37% canary seed and 14% japanese millet.
€8,75