Products tagged with Badzout
Bath salts ensures your birds excellent in all seasons of the "year health. For a quick change of feathers and hassle pedant moulting. Bath Salt poussiès and quickly removes dandruff. Bath Salt contributes to the well-being of ...
€5,20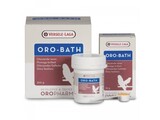 Oropharma Oro-Bath is a special bath salts care product for glossy plumage. It makes feathers more supple, keeps the feet and skin free from scaling and ensures glossy feathers. Oro-Bath has a relaxing function on the muscles and cleans the skin and ...
€4,25