Top Quality Racing (20 kg)
Teurlings Top Quality Racing (20 kg)
High-quality sport mix with 3 types of maize (bordeaux red, popcorn, gritz). Excellent balance between carbohydrates, proteins and fats. Toasted split soybeans as a source of protein.
With Teurlings Boostmix.
Analytical constituents:

Crude protein 13.3%, Crude fat 6.7%, Crude fibres 7.0%, Crude ash 2.4%, Calcium 0.07%, Sodium 0.02%, Total phosphorus 0.31%, Lysine 0.59%, Methionine 0.20%.
Additives:

Nutritional additives (per kg):
  E672 Vitamin A: 600IU, E671 Vitamin D3: 100IU, 3a700 Vitamin E: 5mg, E4 Copper (Copper(II)sulfate, penthahydrate): 0.4mg, E1 Iron (sulphate): 4mg, E6 Zinc (zinc sulfate, monohydrate): 4mg, E5 Manganese (manganese oxide) : 1mg, E2 Iodine (calcium iodate) 0.04mg, E8 Selenium (Sodium selenite): 0.01mg. 
Technological additives (per kg):
  E321 BHT (Butylated hydroxytoluene): 4.5mg.
Composition:
Maize Gritz 20%
Pigeon wheat 11%
Safflower seeds 10%
White dari 8%
Red dari 8%
Maize popcorn 7%
Peas yellow 5%
Toasted soybeans 5%
Dun peas 4%
Maize Bordeaux red 4%
Peas green 3% Boostmix pellets 3%
Peeled oats 2%
Paddy rice 2%
Vetches 1%
Maple peas 1%
Buckwheat 1%
Hempseed 1%
Canaryseed 1%
Lentils 1%
Brown rice 1%
Mungbeans 1%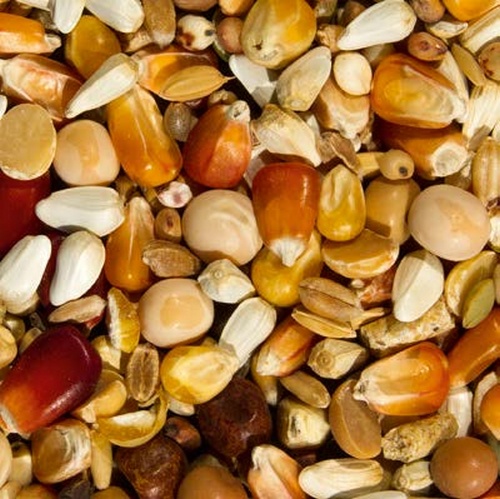 | | | |
| --- | --- | --- |
| Content Top Quality Racing: | |  20 kg |